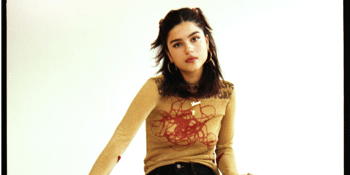 Secret Sounds presents
renforshort
with Special Guest Hauskey
Northcote Social Club (Northcote, VIC)
Tuesday, 26 July 2022 7:30 pm
Northcote Social Club has a zero tolerance policy against unsafe behaviour.
This includes crowd surfing and stage diving.
Please help us create a safe space that everyone can enjoy.
Click here for our full conditions of entry.
Missed out on Splendour tickets? Don't worry, Splendour's Official Sideshows of 2022 are finally here and set to roll into venues around the country this July!
This monster pile of tours is the biggest Official Sideshow announcement in the history of Splendour, so be sure to hold your hat as you get your head around this one…
RENFORSHORT
For renforshort, music is her diary: unfiltered, full of angst and tackling everyday teen struggles hit hardest when coming of age. After releasing just two independent singles, renforshort inked her first record deal with Interscope Records. At the peak of the pandemic, she shared her debut EP teenage angst. And she hasn't slowed down since, releasing her sophomore EP off saint Dominique in 2021, a collection of reflective and snappy tracks that continue to take listeners with her as she navigates young adulthood's complexities.
Can't make the event? Sell your tickets fast and fair through our

resale partner Tixel!