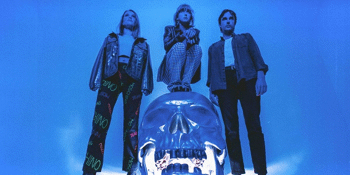 Select Music presents
I Know Leopard
with Special Guests Floozy + LASHES
Northcote Social Club (Northcote, VIC)
Saturday, 12 November 2022 8:30 pm
Northcote Social Club has a zero tolerance policy against unsafe behaviour.
This includes crowd surfing and stage diving.
Please help us create a safe space that everyone can enjoy.
Click here for our full conditions of entry.
Sydney Alt-Pop trio I Know Leopard trio are back with some quickfire shows to launch their new single "Nothing Is Real", coming soon after their national tour with Fremantle chart toppers, Spacey Jane.
The song is the first work they've done with acclaimed Sydney producer / mixer Dave Hammer
(Genesis Owusu, Lime Cordiale)
, who added his own take on the band's sound. The two were keen to collaborate being long time mutual fans of each other's work. "We liked it because the dense harmonies throw back to our early days, but the production is very much another evolution for us."
O'Loughlin's lyrics were his way of helping process the seemingly rapid-fire global upheavals of the Iast few years. "I often feel like there is this bizarre dissociation that occurs amidst all the disturbing events that are happening on our planet right now. It's like we view the world around us through a fictional lens when it suits us, as a coping mechanism I suppose." As always, the song features Jenny McCullagh's shimmering violin with Rosie Fitzgerald's precise basslines. "Nothing Is Real" pushes further into the band's beat heavy Alt Pop direction that started with their three 2021 singles, "Lover Automatic", "Day 2 Day" and "Good As What You Give".
"There's always something so elegant about this group that I really like, and you definitely hear it in this new song. It's a really great track."
Bridget Hustwaite, Good Nights / Triple J ("Day 2 Day" premiere)
"…sparkling slice of pop…quite a euphoric song – a sharp right turn from the wonderfully earnest yacht rock sound that permeated I Know Leopard's 2019 album 'Love Is A Landmine', and just as delightfully out of step with the times, too."
The Guardian
(on "Day 2 Day")
"It's a stellar comeback with their left field, suave, pop slant sounding ace with hip hop kinda drums and a romance fuelling those grooves"
Declan Byrne, Home & Hosed / Triple J
(on "Lover Automatic")
Can't make the event? Sell your tickets fast and fair through our

resale partner Tixel!