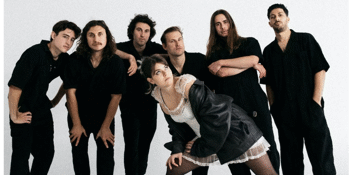 CANCELLED - Mel Blue and Lola Scott
with Special Guests
Northcote Social Club (Northcote, VIC)
Thursday, 24 February 2022 7:30 pm
Please note: for the health and safety of all our guests and staff, we will be adhering to the Covid-19 vaccination directions as mandated by the Victorian Government. In line with the Victorian Roadmap, all staff will be vaccinated and all guests will be required to show certification that they are fully vaccinated to gain entry to the venue.
Sydney-based collectiveMel Bluehavejoinedforces withLola Scotton their new single'You're The Worst Thing To Happen To Me Since 1993'.The single details the story of a couplewho have fallen out of love, and as a result, have become complacent.
Adance-ready, relatable tunethat is set to be a staple for summer listening,the release is accompanied by a cinematic offical videothat further emphasises the tracks conceptual motif.On the track, Oscar (Mel Blue) shares; 'I hear this happening in relationships a lot. Where both partiesalready know they don't love each other anymore, but the thought of being alone is more scary. I'vedefinitely been in this situation.
You start to become bitter at the end and it can leave things on a sournote...The idea of being so close to someone and then letting all that go. Is really depressing. Thatperson was one of the closest to you and then they almost become a stranger.
Down the track as youstart thinking back to being together it's almost like a dream, youcan't remember what it's like to bewith the person. Basically breakups are tough!'Lola Scott also shares; 'Writing with Mel Blue feels like writing alone. Like our brains are connected&we hear similar things in our heads. It's pretty rare to find people with similar music brains... that'swhy they're my favourite people to work with.This song for me was written about a combination ofdifferent romantic relationships.
It's about the kind of relationships that work great behind closeddoors but when you introduce them to the rest of your life they just don't fit. Maybe you don't get clickwith each others friends or one person is needed than the other. Maybe you don't have that much incommon so you just let it fizzle & fade out. But then you also miss theintimacy so you 'fall back to bedby the weekend'.
Can't make the event? Sell your tickets fast and fair through our

resale partner Tixel!