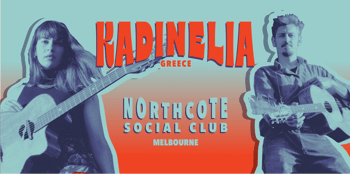 Kadinelia (GRC)
With Delyrium
Northcote Social Club (Northcote, VIC)
Thursday, 5 October 2023 7:30 pm
THIS SHOW IS STRICTLY 18+
KADINELIA (GREECE)
Folk motifs. Acoustic melodies. Psychedelic attitude. The progressive duo, Kadinelia (Evi Seitanidou and Thanasis Zikas), harnesses the timeless sound of Greece and transforms it into something new by weaving in blues, funk, gypsy and several other world music traditions. Through intense rhythmic motifs, dynamic guitar solos and exotic vocals, they create a unique soundscape where East and West collide.
The duo's fondness for traditional cultures and flirtation with electronic music has resulted in the introduction of two unexpected Greek instruments, the Cycladic bagpipe and the Pontian lyra. This unique ancient sound, orchestrated with guitars, loop station and live beatboxing creates an upbeat and psychedelic atmosphere!
​
Kadinelia released their debut album in late 2019 and they are about to enter the studio for their second LP, expected to be released in late 2023.
On stage the two musicians have an explosive energy proving that even small groups can offer an expansive concert experience. Their dedication and faultless live performances have earned them a spot on major stages throughout Europe and now Australia!
Evi Seitanidou: guitar, lyra, beatbox, vocals
Thanasis Zikas: guitar, tsabouna, vocals
DELYRIUM (VIC)
A high energy Cretan fusion band based in the heart of Melbourne,
Delyrium
embrace the gutsy rhythms and driving grooves of Cretan music to produce a sound that connects the timelessness of folk music with the edginess of the Now.
Northcote Social Club strives to create a safe space that everyone can enjoy.
Crowd surfing & dangerous behaviour will result in removal from the venue.
Full conditions of entry | Accessibility Info
Can't make the event? Sell your tickets fast and fair through our resale partner Tixel!