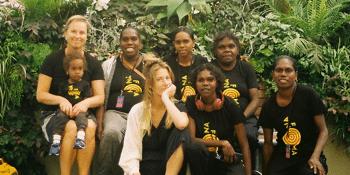 Ackeron St. Records presents
Ripple Effect Band
with Special Guests
Northcote Social Club (Northcote, VIC)
Sunday, 9 October 2022 7:30 pm
Northcote Social Club has a zero tolerance policy against unsafe behaviour.
This includes crowd surfing and stage diving.
Please help us create a safe space that everyone can enjoy.
Click here for our full conditions of entry.
Kappa Kappura is the sound of water striking the beach and Melbourne needs to get ready to hit the dance floor for some saltwater reggae-rock all the way from the top end of Australia. Ripple Effect Band are from Maningrida in the Northern Territory. These women bring an infectious energy which takes audiences on a journey as they share the soul of Arnhem Land. You may have missed their sold out shows at the Thornbury Bowling Club and the Gaso in early 2020 but you don't want to miss out this time.
Featuring a strong frontline of female voices in stunning harmonies, and a rotating backline of talented multi-instrumentalists, Ripple Effect Band sing in six languages from the Western Arnhem Land community of Maningrida. Like the wind that blows across the land bringing the spirits of the ancestors, these languages connect their music to the past and into the future. Having warmed up at some Northern Territory dry season festivals such as Garma, Barunga and Freedom Day, the band will be sharing with east coast audiences, new songs, and new sounds from their upcoming album.
Can't make the event? Sell your tickets fast and fair through our

resale partner Tixel!