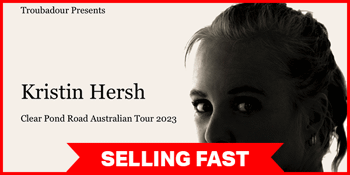 Troubadour Presents
Kristin Hersh
With Love Outside Andromeda
Northcote Social Club (Northcote, VIC)
Wednesday, 8 November 2023 8:00 PM
THIS SHOW IS STRICTLY 18+
The inimitable Kristin Hersh is a musician's musician, a songwriter's songwriter, and an innovator's innovator. The Queen of Grunge's first band, Throwing Muses, began recording and playing out when they were just 14 years old and they're still going - 2020's critically acclaimed Sun Racket was hailed as "a perfect record".
"One of indie rock's most fascinating figures" - The Guardian
Hersh's refusal to participate in a corporate industry saw her leave a Warner Brothers recording contract at the top of her success in order to become listener-supported.
"Music is humanist and so are we." as she puts it.
Wildly prolific, she has released more than 20 albums solo, with Throwing Muses and with her noise rock band, 50 Foot Wave .
She's also a celebrated author: Rolling Stone named her first book. Rat Girl (Penquin) one of the ten best rock memoirs of all time. NPR said of her second book, Don't Suck, Don't Die,
"Not only one of the best books of the year, but one of the most beautiful rock memoirs ever written." Her third, the game-changing Seeing Sideways, pushes the envelope of creative non-fiction while telling the story of raising her 4 sons on a tour bus.
Kristin Hersh's new album 'Clear Pond Road' is a cinematic road trip; a series of personal vignettes from a fiercely independent auteur, sitting plush with layers of all-consuming strings and mellotron. It's a watershed moment in a career overflowing with creative firsts and inspirational thinking; an elegant piece of personal reportage, a home movie caught in time.
"Few artists understand the intensity of living one's art like Hersh" The Guardian
"Kristin Hersh is a musical genius" - Huffington Post
"A fearless rock innovator" - New York Times
"Possible Dust Clouds reinforces that Kristin Hersh is not just persevering in the now but flourishing as she makes some of the finest music of her career" - The Vinyl District
"The work of an artist both singular and shape-shifting, always herself but never predictable" - Uncut
"The portal to Hersh's carefully documented world of otherness" Mojo
"A stunning, stealthy, faintly malevolent collection of songs"- Q
Northcote Social Club strives to create a safe space that everyone can enjoy.
Crowd surfing & dangerous behaviour will result in removal from the venue.
Full conditions of entry | Accessibility Info
Can't make the event? Sell your tickets fast and fair through our resale partner Tixel!