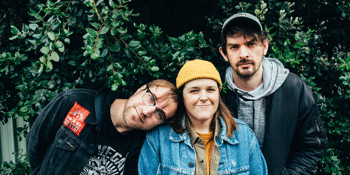 New World Artists Presents
The Hard Aches
With Suzi
Northcote Social Club (Northcote, VIC)
Saturday, 23 July 2022 8:30 pm
Northcote Social Club has a zero tolerance policy against unsafe behaviour.
This includes crowd surfing and stage diving.
Please help us create a safe space that everyone can enjoy.
Click here for our full conditions of entry.
Beloved rockers The Hard Aches have today announced their first new single since 2019, Party Ghost, a lightning strike of a song that explores finding comfort in the uncomfortable – out today. The group have also announced a mammoth national tour to celebrate the release, kicking off in July and moving through major and regional cities across QLD, NSW, ACT, TAS and SA, wrapping up on Kaurna Land at The Governor Hindmarsh on August 6. Party Ghost, which features Cahli Blakers of Teenage Joans on backing vocals, is the first taste of The Hard Aches' new album, set to drop later in 2022.
Party Ghost is one of those rare songs that hits the listener with a wave of nostalgia upon the very first listen – evocative and complete, brightly distorted guitars propel the song forward, reaching for tightly constructed arcs that follow the song's lyrics in perfect tandem. Speaking on the inspiration behind the track, Ben David explains, "It's all about finding yourself in an unfamiliar place with unfamiliar smells and unfamiliar sounds…it's about reflecting on your own existence, and your own experiences then learning from them, and doing everything you can to do better. Most of all, it's about trying to understand how it must feel to be an animal, moved away from your safe place, put through big changes, and unable to understand them."
The Hard Aches
are stoked to return to the national touring circuit in July and August to celebrate Party Ghost and the return of shows, as Ben says, "It's been a huge shock to the system, not being able to share in the smiles and good times that come with touring and playing shows. It feels surreal to be back announcing shows – but it feels right. We are stronger than ever as a band with this new material, and with the addition of the amazing Eb Tonkin on bass. We really can't wait to get back out there."
Can't make the event? Sell your tickets fast and fair through our

resale partner Tixel!