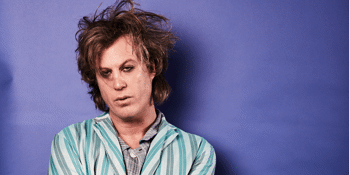 Select Music presents
Jack Ladder
with Special Guests
Northcote Social Club (Northcote, VIC)
Saturday, 8 October 2022 8:30 pm
Northcote Social Club has a zero tolerance policy against unsafe behaviour.
This includes crowd surfing and stage diving.
Please help us create a safe space that everyone can enjoy.
Click here for our full conditions of entry.
JACK LADDER – 9 NEW SONGS
A singular character in Australian music, sardonic & surreal, he brings his towering and tender baritone to bear on tales of love, loss, hope & redemption. A master of musical narrative, conjuring lyrics that celebrate the absurdity and sincerity of the human condition in songs that groove in subtle ways.
In the years since his largely acoustic debut, Ladder's musical journey has been notable for some sharp stylistic turns into disparate genres, but has always been connected by a singular songwriting talent. Weaving a reckless path, he has left a smattering of classic albums in his wake including HURTSVILLE, Playmates, Blue Poles & last years "manically beautiful" 'Hijack!'.
Now he's doing it again.
This spring Jack Ladder will perform brand new unreleased music for the first time at shows in Sydney, Melbourne and Brisbane. Part market research, part provocation, these intimate solo shows will represent a new chapter in Ladder's unfurling career. If you're here for the hits, well, you'll most likely get some of those too.
Die hards and Ladder-curious alike will not want to miss these semi-historic events.
On 'HIJACK!'
"The gothic baroque of Hijack! may be his most singular work yet." – Rolling Stone
"An otherworldly atmosphere puts these songs into a different orbit." – KCRW
"Hits you both in the sternum & the feels. A post rehab album that rejects platitudes and easy lessons, instead showing you it's veins while cracking wise in various shades of black." – Sydney Morning Herald
"manically beautiful" – RUSSH
"Majestic strings drape down from all corners, floating up and up into the infinite space of the universe." – The Guardian
"An artist whose art is as much a sonic-cinema, as it is music." – Happy Mag
Can't make the event? Sell your tickets fast and fair through our

resale partner Tixel!