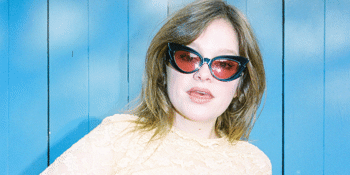 Cult Artists present
Sappho (EP launch)
with Special Guests
Northcote Social Club (Northcote, VIC)
Friday, 9 September 2022 8:30 pm
Northcote Social Club has a zero tolerance policy against unsafe behaviour.
This includes crowd surfing and stage diving.
Please help us create a safe space that everyone can enjoy.
Click here for our full conditions of entry.
SAPPHO ANNOUNCES NEW SINGLE 'TROUBLE' AHEAD OF DEBUT EP RELEASE SAPPHO, OUT JULY 29
MELB AND SYD SEPTEMBER SHOWS ANNOUNCED
FOLLOWING A RUN OF
STAND-OUT LIVE PERFORMANCES IN MAY
Much more than an artist, Sappho is a world, and one that former Alpine frontwoman Phoebe Baker has crafted with enigmatic eccentricity
and bewitching artistry. A place where quirkiness is key and cheekiness is inherent. Lifted from her forthcoming self-titled EP (out Fri July 29), Sappho's new single
'Trouble' balances

disarming lyrical frankness with searingly focused pop sensibilities and an irresistible beat, to create

a shining example of what makes planet Sappho so much damn fun. To celebrate the release of her debut EP, Sappho will play headline shows at Sydney's Golden Age Bar on Sat Sept 3 and Melbourne's Northcote Social Club on Fri Sept 9.
Speaking of 'Trouble', Sappho says:
When I wrote this song, I was thinking about the joy of cheekiness and the reckless exciting energy that comes with being in trouble. It made me think of the pop bands I grew up listening to, and their celebration of all things naughty.
Trouble is about that feeling you get when you dip into your local water body (ocean, lake, river, dam) after said trouble has occurred. It's an homage to naughtiness.
'Trouble' follows previous singles '
Flex
', 'Collide' and '
Scared Angel
', and is a perfunctory exploration of the internal battle faced when we encounter a love that we suspect is worth facing our vulnerabilities for.
"I just want to heal, there is nothing sweeter" Sappho croons over the immediately anthemic soundscape. Littered with counter melodies and hooks, the instrumentation is clearly intended to be as addictive as the blistering newfound romance Sappho alludes to. 'Trouble' is both melodic and driving, and gleefully spells out its intentions in the chorus' catchy crescendo, impossible not to sing along to, "Take me to the water – B E A C H me babe."
Nowhere is the other-worldly joyous zest that Sappho exudes as clear, as when on stage. Augmented by live backing dancers, a visibly love-melded band, and a keytarist, Sappho's live performances are a zealous and passionate celebration of unity through music. Sappho completed a run of debut headline shows last month, and successfully lulled audiences into blissful awe before they were implored by her impassioned pleas to release themselves to the experience and dance. Enamored by her magnanimous and at times humorous presence, and enveloped in streamers that Phobe had herself, earlier suspended from the venue's walls and ceilings, Melbourne and Sydney audiences were not just shown Sappho, but granted access to a magical new world.
Consider this an invitation to experience all that is Sappho for yourselves. 'Trouble' is officially out in the wild. Catch it now.
Can't make the event? Sell your tickets fast and fair through our

resale partner Tixel!